We have spent years collecting and tinkering with gear to create a unique collection of delightful audio toys. We have a wide variety of options to offer many different sonic variations and we are always collecting/building/altering gear so always ask if there is anything interesting added to the collection!
Analog + Digital = Awesome
Our primary goal is to have access to the natural glue and sonic effect of the analog audio world while maintaining the convenience and editing capabilities of digital recording. This opens up tons of options in regards to creating a sound for your project. We have recorded projects with every conceivable variation of analog and digital recording and we love to offer that experience to our clients. We have tracked basics with vintage mic-pre's at a remote location, comped and edited on the computer, returned to Studio © and dumped the songs to tape where we over-dubbed, especially vocals and guitars! in the analog world, returning these almost-finished songs back to digital at DSO Recording for last-minute editing and tweaking, returned to Studio © where we transferred the completed songs, one more time, back to tape and finished by mixing through our 36-channel Quad Eight Console to Studer B67 2-track! A very fun, but time consuming and expensive way to work, but it gives an example of the options that exist. To hear an example of one such 'labor-of-love' check out Art of Flying's most recent release: "Escort Mission,'
Why bother with tape, you ask? "I have plugins that can emulate that!" "Tape is too expensive!" So, maybe you don't believe all of the analog hype, (there is a ton of it out there these days and we don't believe most of it ourselves), fine! We have plugins that can emulate the effect of analog recording and mixing, and you can use them if you prefer, but its still not the same. Besides analog's sonic capabilities, there is something artistically challenging, and satisfying, about having limited tracking options and having to sit and wait for the song to rewind. Come to TRS and see for yourself.
Analog and Digital are both very different mediums, obviously, one being better than the other with different aspects of recording at different times, but Hey! we like to have both options, and that's what we offer here at Studio © & DSO Recording It's not better or worse, its just what it is. If you want to have a fun, hands on, creative (and a little bit frustrating) time, try analog, you won't forget it. If you want to hear more about working with analog and digital recording mediums and why its so fun to have options.
Beyond just having a bunch of gear, much of our equipment has a story to go a long with it.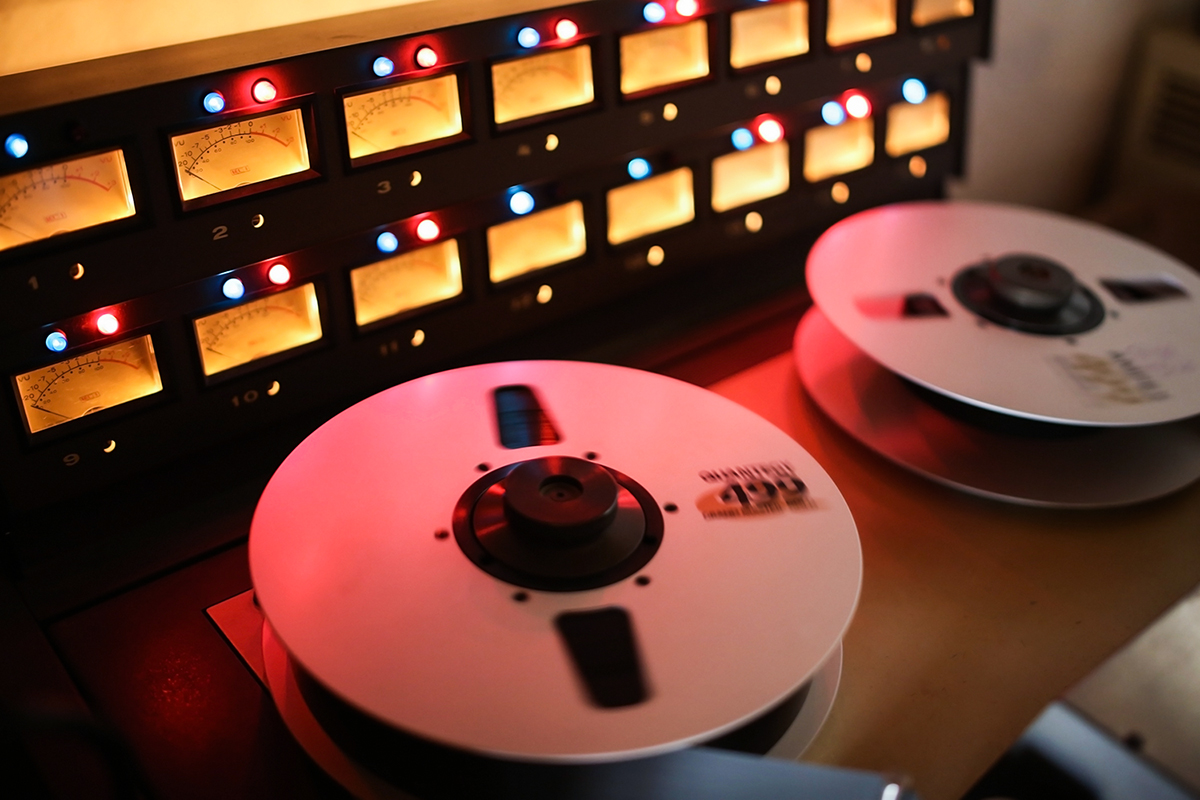 What the deal with the analog gear?
In the mid 80's Dave was living in San Francisco and found a wanted ad trying to find someone who would trade wood work for recording equipment. Clearly this was a barter meant to be and Dave started working in trade for high end analog recording gear. Over ten years he worked and traded for some incredible items. You can read the whole story here.
You can read the story about the Console (mixing board) here.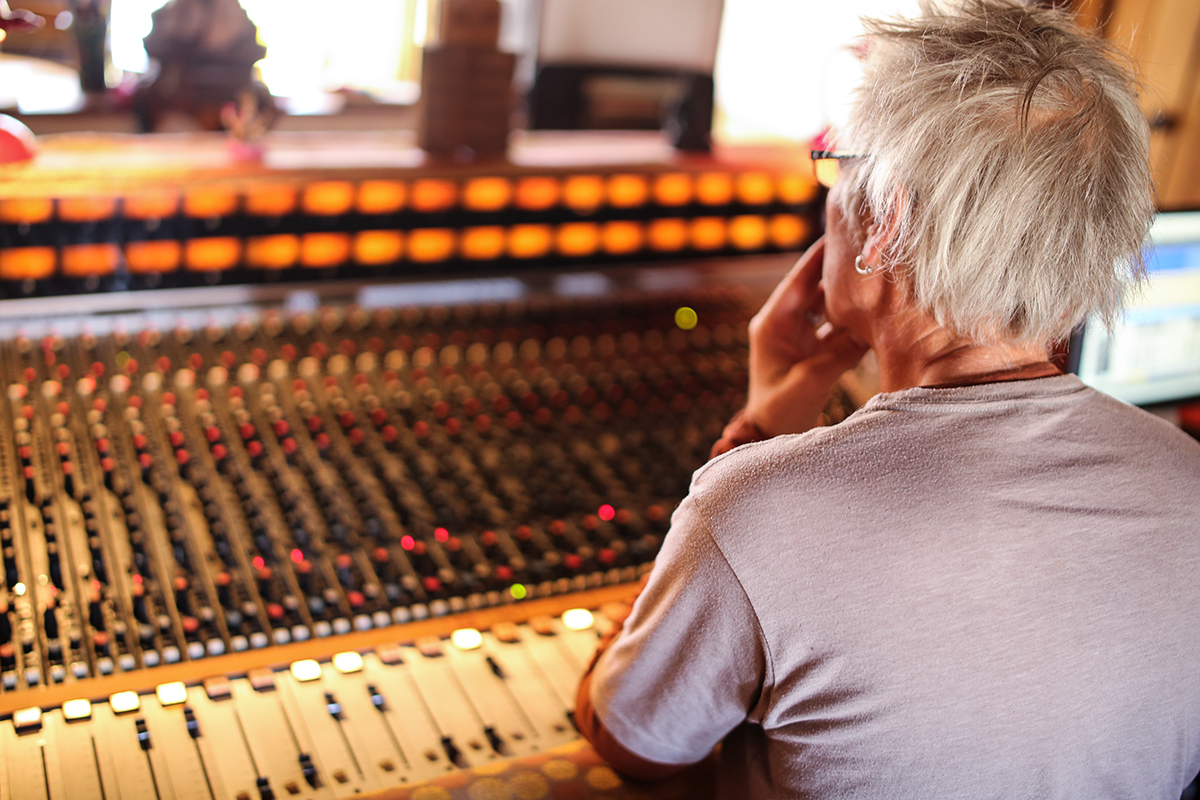 Did I hear you have custom made microphones?
After spending weeks trying to track down affordable used modern microphones that were still in decent condition, Max started to research DIY builds of common mics and after many months of research and planning he started on his first mic. His first effort was upgrading all of the components of an old  MXL990, he swapped out all of the components, added a cleaner bigger dual sided capsule, and painted the body. The result was ten times better, for a fraction of the cost. This opened the flood gates. Since that first effort he has built many variations of common microphones. These mics sound great, and more importantly, they have a story. The story is sometimes the most important part of the process.

Mics:
Vintage and Beautiful

1 – AKG c12a
3 – AKG c61
1 – AKG 414b uls
2 – Neumann km53

Modern and Bright

1 – Blue Kiwi
1 – AKG 414xls
2 – Rode NT5 with Custom Michael Joy Capsules
1 – Shure Beta 91A

Custom built and Bold

1 – c12 Capsule w/ GE6072A Tube & Cinemag transformer
1 – U87 Capsule w/ AMT transformer
1 – Stereo Ribbon with Cinemag transformer
1 – Mono Ribbon with Lundahl transformer
1 – Rebuilt MXL990 W/ full circuit overhaul and capsule upgrade (I.E. It's not a P.O.S. anymore)

Dynamic and Critical

6 – SM57's
1 – SM57Beta
5 – SM58's
4 – Blue Encore 200s
1 – Shure Beta 52A
1 – AKG D112
Preamps
Vintage

4 – API 312
3 – Telefunken v72
28 – Differential Quad Eight

Modern

2 – Neve 511
1 – LaChapell 583s
2 – API 512c
1 – Avalon VT-737sp
8 – Audient ASP008
1 – Radial PowerPre
Interfaces:
QUAD EIGHT 'saraswati' (westar) 36 channel in-line console
Universal Audio Apollo 16
Neve 8816 Summing Mixer
Tape Machines:
MCI 2″ 16-track w/ AUTO-LOCATOR 2
STUDER b67 1/4″ 2-track
Tascam DA-30 mk-2 DAT
Outboard Gear
3 – NEVE 2254/e Compressor/Limiter
1 – ADR Compex Compressor/Limiter/Gate/Expander (stereo)
2 – API 527 Compressor
1 – Phoenix Audio N90-DRC Compressor/Gate
1 – iTi Parametric EQ (stereo, when it wants to work.)
2 – Ibanez Analog Delays
1 – Roland Tape Echo
1 – EMT Plate Reverb (no, we are not joking!)
2 – Summit Audio TLA – 50 Compressor
Monitoring
GENELEC 1029's
JBL 4328P's
Big Reds (special request)